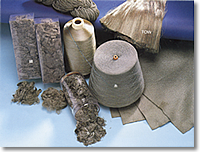 While many synthetic fiber and resin products are in use, they have given rise to various kinds of problems.
Some of the typical problems are electric shocks, ignition, stiction, dust attraction, and repulsion that are caused by electrostatic charges.
Electrostatic charges are thought to be caused by energy irradiation, induction and piezoelectric polarization, such as by friction, contact, separation, fluidity, and photothermal effects that are unavoidable in everyday life and working processes.
Thunderon®
, born from advances in fiber processing technology, is a conductive fiber that has the property of eliminating electrostatic charges.
In addition to the elimination of electrostatic charges,
Thunderon®
is also a fiber that has superior antibacterial and deodorizing properties as well as heat storage and thermal insulation properties.
What is

?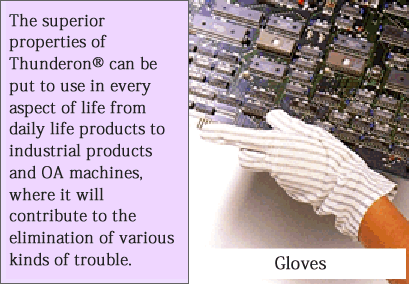 Thunderon®is an organic conductive fiber produced by the chemical bonding of copper sulfide to acrylic or nylon fibres.
Compared with metallic filaments or carbon fiber,
Thunderon®
:
☻
is soft
☻
is hard to deform or break by bending
☻
has a low density
☻
as superior friction resistance,
☻
has superior handling touch
☻
can be blended or weaved with other yarns
The above features of Thunderon® make it possible to develop flexible products.
Thunderon®
has a great reputation from the semiconductor industry to daily life applications, and is being used in every field.
Thunderon®
has also received awards such as the "Progress Prize" from The Institute of Electrostatics Japan and the "Technology Prize" from The Society of Fiber Science and Technology, Japan. Patents have also been taken out for Thunderon® not only in Japan but also in South Korea, the United States and Europe.