A self-discharging static eliminator is a device for eliminating static electricity, which makes use of the static electrical energy of the charged object to be destaticized, eliminating the static through a corona discharge at a grounded needle electrode. Therefore, its static eliminating capacity depends on its ability to generate ions, and is greatly affected by the charge electric potential of the charged object to be destaticized. This is why if the electric potential of the charged object is not 3,000 volts or greater, a corona discharge can be difficult to obtain with a self-discharging static eliminator.
However, the Thunderon®

that our company has developed, is a revolutionary new product showing static eliminating effects at electric potentials of less than 3,000 V. Neither are the merits of this self-discharging static eliminator limited to this function. Not requiring an electric source, it finds many uses as a static countermeasure in OA equipment including copiers and printers. The Thunderon®

that we have developed is an extremely good product, making use of the latest technology and equipment to achieve substantial functional improvements over conventional self-discharging static eliminators.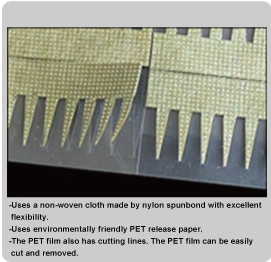 The thinnest Conducting Layer


Thunderon® has an electrical conducting layer only 30~100 nm thick

A comparison of the wire diameters of conductive fibers used as electrodes shows the diameters of Thunderon® fibers to be about 15 μm, which is rather thick, so one would think it would have less ability to eliminate static. However, the thickness of the conductive material, which is the feature of the the static eliminating function, is extremely fine at 30 to 100 nm, because the conductive layer is formed by crystallization on the surface of the fibers. This constitutes the thinnest conductive layer in any self-discharging static eliminator currently in use.

- Uses a non-woven cloth made by nylon spunbond with excellent flexibility.
- Uses environmentally friendly PET release paper.
- The PET film also has cutting lines. The PET film can be easily cut and removed.


Excellent Conductivity




Specific resistance of the electrical conductive layer is 1x10-2 Ω・cm

The specific resistance of Thunderon® fibers is 1x10-2 Ω・cm, which is rather high compared to stainless steel or carbon fibers, but its conductive material has an excellent specific resistance value of 10-2 Ω・cm.

Small Electrostatic Capacity


Discharge initiating voltage is small

Because of the features of the thinnest conductive layer and excellent conductivity described above, the electrostatic capacity of the Thunderon® is remarkably small. That means that even when the charge potential of the object to be destaticized is small, ion production begins earlier, and static elimination (discharge) starts more quickly. It is also designed with convenience in mind.