Thunderon® Braid SS-20 is made from an organic conductive yarn which copper sulfide is chemically bonded to. This Braid is a static removing cord that eliminates static electricity safely by corona discharge.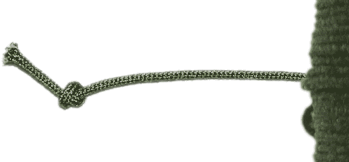 In static-removing products for electronic equipment.
As an anti-static measure at resin molding plants or film factories.
As grounding for electronic equipment or home electronics.
(grounded or ungrounded)
【Size】
2φmm× 200m length

Thunderon® eliminates static electricity instantaneously by corona discharge, but if static electricity is being generated repeatedly, its ability to eliminate the static decreases, so please be sure to use grounding.
The cord is made from a conductive yarn (a semiconductor), but it is not to be used as a conducting wire. Do not allow it to come into contact with an electric power source.
The cord will heat up if irradiated with high-frequency or microwave radiation. Please avoid this kind of irradiation
Use should be avoided if eczema, rashes or other skin abnormalities occur
If soiled, wash the brush with a neutral detergent. Do not use bleach or oxidizing agents.